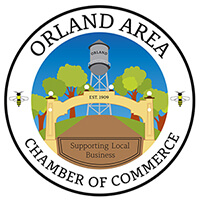 The Orland Area Chamber of Commerce is a voluntary organization of the business community, uniting the efforts of business and professional individuals to improve the economy and build a better community. The Orland Chamber serves as the business voice of Orland.
The Chamber's strength lies in its membership enabling them to accomplish collectively what no one could do individually. The policies and programs of the chamber are determined by its Board of Directors, elected by the memberships.
Since the OACC is a voluntary organization chamber costs of operation and expenses are apportioned amount it's member through the dues collected.
To business prospects, newcomers, and visitors the chamber represents the community's front door. We sponsor community events, publish a newsletter twice a month, maintain a community events calendar and provide maps of the area for members and visitors.
The Orland Chamber of Commerce is Governed by a Board of Directors which meets Monthly. A general membership meeting is also held each month on the 3rd Wednesday of the month @ I-5 Café meeting rooms at 12pm. Everyone is encouraged to attend to hear the guest speaker, updates of local businesses and news from our city representative about what is happening in our town.